Please use the Navigation buttons, above, for more information.
Pierson Industrial Tract
SOLD
$12,000,000
207 Acres Zoned Industrial
One of the best industrial sites in the Commonwealth of Virginia:
Large, unrestricted development envelopes (most of the property is open land which has been farmed for over a century);

Utilities Present: Public water, sewer, heavy electric feeds, fiber;

Long frontage at grade on CSX rail;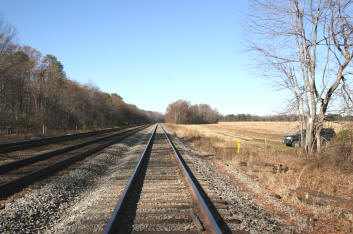 (at left are the two north/south tracks; the track at right is used for spur lines)
The Yellow marker is for a petroleum pipeline; the orange, white markers in the distance are for fiber optic.
The Fredericksburg REGION is just that, a region with cooperating jurisdictions featuring a base population approaching 300,000 and a service, trade area, population of over 450,000.

Above, are two views of the vibrant, historic downtown and a view of one of the largest power centers on the East Coast in the foreground with the Spotsylvania Mall in the background. The Route 3 corridor supports over 4,000,000 sq. ft. of commercial-service opportunities.
Mary Washington Hospital is a regional facility with strong depth and scope of services continually updated. Germania Community College offers vocational training, in addition to basic academic services; The University of Mary Washington is continually voted one of the best small colleges and offers graduate degree and business related courses at its Stafford campus.
The Property is about two miles from the historic downtown.
The Neighborhood is characterized by the term ascendancy; new subdivisions, new shopping; and the existing country club, Fortune 500 businesses, clean industrial parks.
Water intake for large volumes from the Rappahannock River has been established by Power Train division of General Motors Plant nearby; the Rappahannock River, at that point, is a tidal body dominated by fresh water;
Spotsylvania County has a documented history and agenda of business friendly, industry friendly cooperation; jobs, quality jobs are important to this growing region with attractive demographics.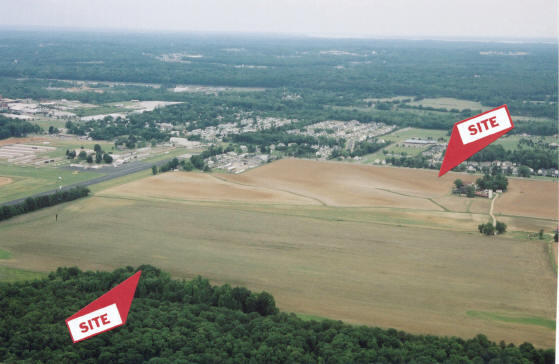 Above, an aerial of most of the Property; Shannon Airport is to the left, center is existing farm house, barn on the Property, which continues on to the right.
Below, a copy from the U.S.G.S. 1994 Fredericksburg, VA quad.
Please go to "Narrative" of this web site for a larger format topo with annotations in a PDF file, which may be printed.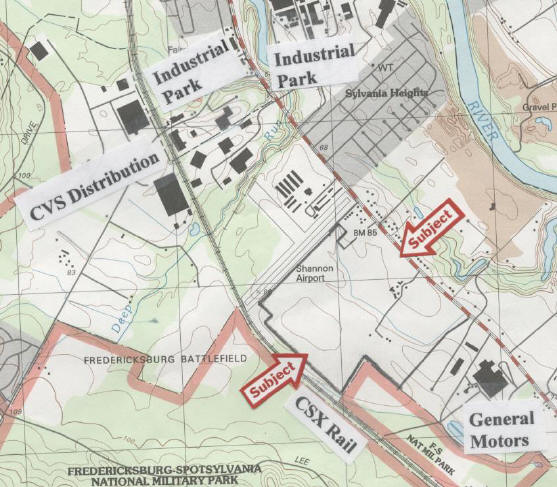 PLEASE NOTE: The Property is shown by appointment only with Alex Long. The Property is "Posted - NO TRESPASSING". Anyone found on the Property without permission will be prosecuted for criminal trespassing.