C E N T E R P O R T
- 51 Acres Zoned Urban Commercial, with Proffers
- First large tract from Exit of new I-95 Interchange
- At Gateway to large mixed-use project
NOTE: Stafford County adopted a new Comprehensive Plan, December, 2010 which included new Urban Development Areas "UDA". The Subject tract is presently zoned for intensive development AND is within the new UDA, and is bordered by a tract presently zoned for 600+ du. Details are found near the bottom of this page.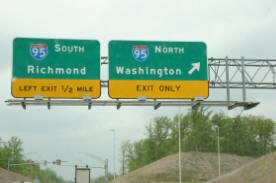 ---
PRICE
51 Acres .............................. $1,290,000
---
Below, double click to view and/or print map; Note: boundaries are approximate.
---
Subject is two parcels dissected by Centerport Parkway.
Land use dominating the NEIGHBORHOOD:
Stafford Regional Airport (jet traffic)

Centerport Parkway and the I-95 Interchange

Centerport Parkway has rights of way sufficient for a four lane divided highway (need VDOT confirmation);
The interchange has sufficient rights of way to become a cloverleaf (need VDOT confirmation);
These resources are the both the greatest and lest utilized transportation resources in the region (great capacity)
Subject 44 acres zoned for 400,000 sq. ft. office;

Subject .6.7 acres zoned for hotel / office / commercial

A tract zoned multifamily (600 du) borders Subject

Industrial ground near airport

FedEX facility near Subject

87 acres opposite Centerport was put under a conservation easement at the NW quad of the interchange; Subject is at the S/W quad of the interchange and is thus the only viable platform west of I-95. Thus, the Subject tract is the only one at that quad of the interchange viable for development.
___________________________________________________________
Click HERE for plat of survey of Subject Tract __________________________________
Geographic Information Systems ("GIS") Maps
Please note: Information is taken from sources deemed reliable, but not guaranteed.

Double click to enlarge, print, or save the image.
Below, Zoning Map illustrates both the Subject Tract and the CONTEXT of the Subject Tract, what the other parcels are zoned today. Please note that Subject Tract and its immediate area have been designated as an Urban Development Area in the Stafford County Comprehensive Plan.
________
Stafford County Tax Map____________
Below, Stafford County Utility Diagram; all is approximate.
Below, Mid level perspective - Utilities; Below, Micro view to gauge Elevations from existing sewer manhole to Subject Tract
Below, Topography; it should be noted that half the property must be open space.
________________________________________________
Below, a Stafford County Tax Map
NOTE: the parcel designated as "B2, contiguous to the interchange and Interstate 95 is under a conservation easement and was given to the Northern Virginia Land Trust and will not be built upon.
PLEASE NOTE:
Centerport Parkway is a "Limited Access Highway"; there can be no road-cuts;
Access to the 44 acre tract is per the proffer of building a new access road and traffic light;
Access to the 6.7 acres is via Mountain View Road;

double click for map
Below, is an Exhibit for the Rezoning to Urban Commercial, showing the approximate location of the proposed Access Road, called the "Mine Road Extension".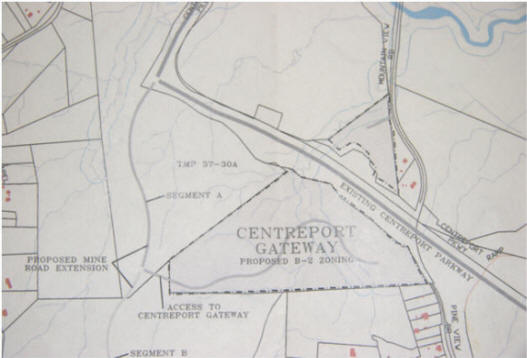 ---
Above, double click for GDP;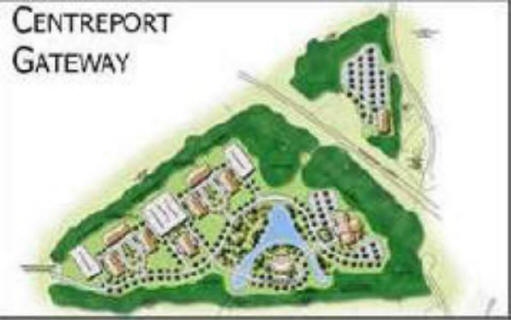 _____________________________________________
Click HERE for Proffers
____________________________________________
_____________________________________________
The Competitive Advantage
_____________________________________
No Congestion
New Airport New Interchange New Parkway
No Lines
A Clean Slate
A Fresh Approach
A Blank Canvas
Your Design - Your Solutions

At left, Subject is at a New Interchange with NO Development; able to hand heavy traffic loads; and rights of way in place to handle greater traffic loadings.
At left, Route 17 Interchange which becomes clogged to the point of approaching failure.

At left, Garrisonville, Route 610 Interchange, which also becomes dysfunctional during rush-hour.

At left, maps showing 1, 3, and 5 mile rings.
---
It is what is not shown in this picture that is MOST IMPORTANT
Rights of Way to expand this to a full clover-leaf interchange
and make Centerport Parkway a four lane divided highway
WHY ?
Below, an excerpt from the 2010 Stafford Comprehensive Plan (Draft, August 2010).
The 44 acres and 7 acres are at the "Airport Interchange", which would become the interchange with I-95 for the "Outer Connector". Moving traffic from Route 17 to a connection with I-95, North, is a priority.
Major New Road Planned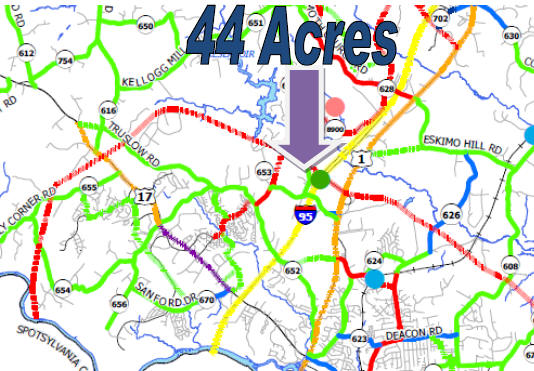 Click HERE for a copy of the Free Lance Star news article about the proposed Road.
Click HERE for an annotated copy of the document, above.
____________________________________________________________________
Intermodal Hub - I-95, Airport; Rail
The I-95 Interchange was built as an 'intermodal transportation' resource; linking the Airport, I-95, and VRE Rail. Another feature was the future linkage to the 'outer connector' or beltway around the Fredericksburg Region. Thus, the existing interchange is a diamond but the rights of way are in place to convert the interchange to a full cloverleaf.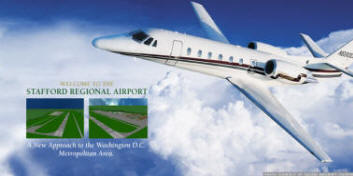 Stafford Regional Airport (Jet-Port)
Designed to maximize the safe and efficient movement of aircraft, the Stafford Regional Airport facility includes a 5000-foot by 100-foot instrument runway with full parallel taxiways, Jet-A and Av-Gas fuel storage facilities, and 25 acres of paved aircraft parking aprons.
The 550-acre facilities can accommodate 75,000 annual operations and 100 based aircraft, including corporate business jets, with gross weights up to 70,000 pounds and wing spans up to 80 feet. An additional 25 acres of rough-graded finished lots are available for lease development of individual, corporate and T-hangar aircraft storage buildings and other aviation related business facilities. http://www.staffordairport.com/
__________________________________________________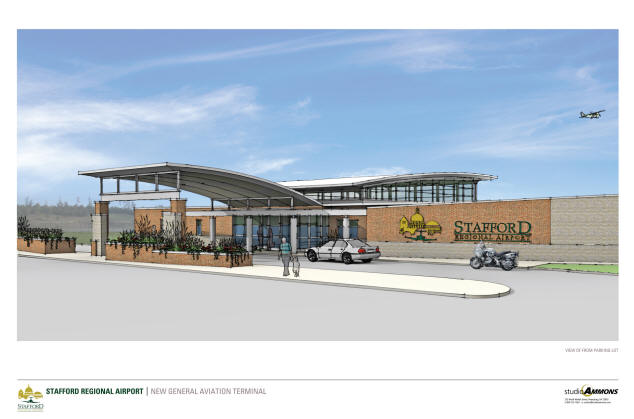 A look at planned Stafford airport terminal
A ground-breaking ceremony is scheduled Tuesday afternoon for the permanent terminal building at the Stafford Regional Airport. Below are renderings of what the terminal will look like from several different angles; click each for a larger image. The images are courtesy of Petersburg-based architecture firm StudioAmmons, which designed the 10,000-square-foot facility. Curtis Contracting Inc., which is based in West Point, is the general contractor. Click here for more details on the $3.4 million project, which is expected to take 10 months to build.
Source: FREE LANCE STAR / FREDERICKSBURG.COM; October 16, 2012.
---
Rail is another transportation option. The Subject tract is near the Leeland Road Station of Virginia Rail Express "VRE". The Airport I-95 interchange was built as an 'intermodal transportation hub.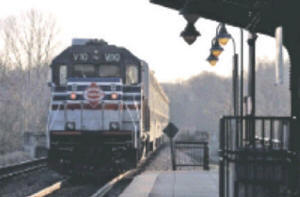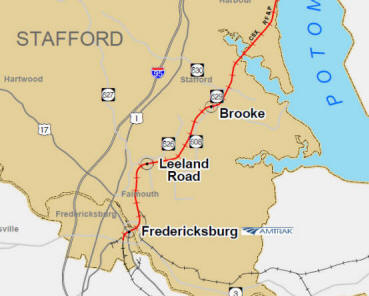 _____________________________________________
Demographics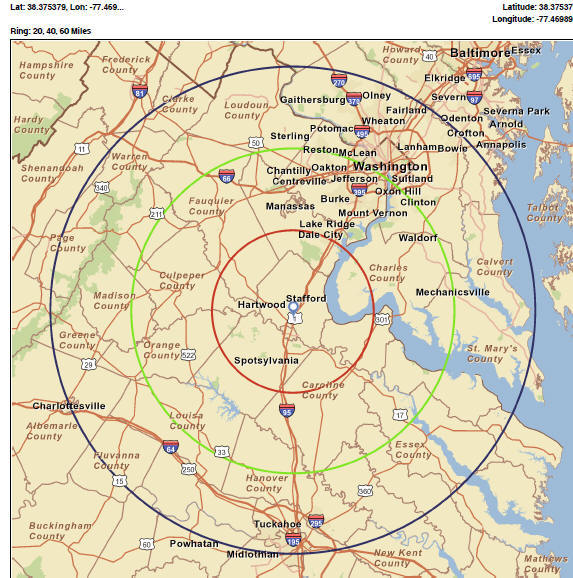 Click HERE for PDF of Demographic Report
________________________________________________________
___________________________________________________
Although there are many differences between Centerport and Dulles; there are also commonalities: both were rural and grew in economic stature and both share vision. The Stafford Regional Airport (jet-port) is the designated reliever airport to both Dulles and Regan National. Below, cover of "Washington Airports Task Force, 25th Anniversary"; 2007.
V I S I O N T R I U M P H A N T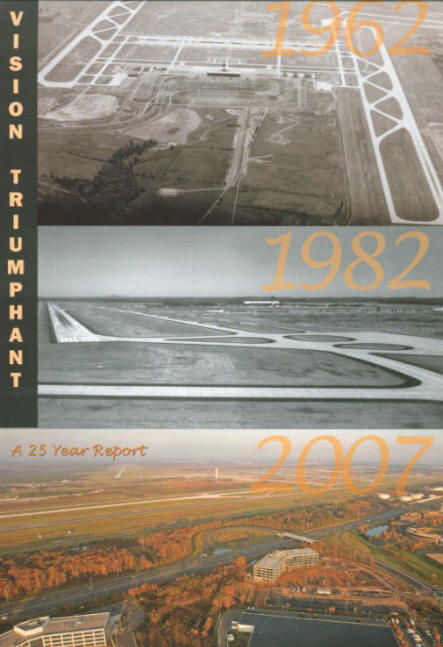 _________________________________________________________________
Only about five miles south of the new Stafford Regional Hospital, shown below
_________________________________________________________________________________
UDA
Urban Development Areas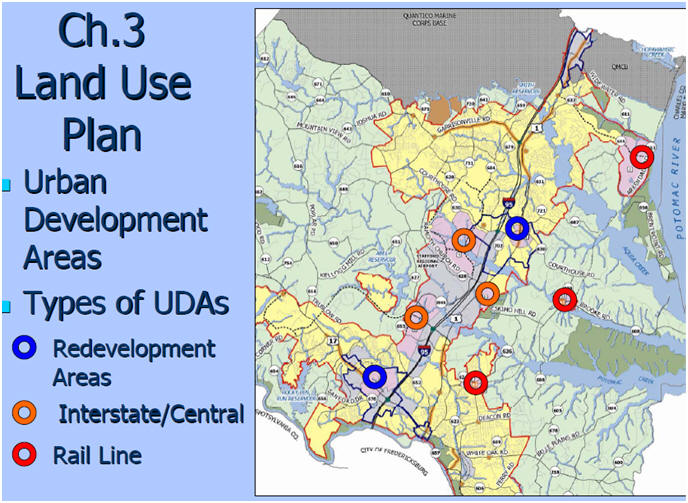 Above, taken from Stafford County Board o f Supervisors PowerPoint; note the UDA at Widewater was not adopted. Retrieved January, 2011.
Urban Development Area Planning
Background and Recent Efforts
On December 14, 2010, after a public hearing, the Board of Supervisors adopted a Comprehensive Plan, which provides a vision for where Stafford County will be in the future in regards to the use of land, the future transportation patterns, protection of natural resources, and location and type of public facilities, schools, and parks.
House Bill 3202, passed by the Virginia General Assembly in 2007, mandated that certain high growth communities create Urban Development Areas (UDAs) within their Comprehensive Plan sufficient to meet projected residential and commercial growth in the locality for an ensuing period of at least ten but not more than twenty years. In 2010, the General Assembly, through House Bill 1071, amended the UDA provisions, found in Section 15.2-2223.1 of the State Code, to require that any locality with growth rates of at least 5% and populations between 20,000 and 130,000 shall create the UDAs with residential densities of 12.0 condominiums or apartments, 6.0 townhouses, or 4.0 single family homes per acre and commercial densities of 0.4 FAR. The deadline for compliance is July 1, 2011. The proposed Plan considered by the Board on December 14th included eight UDAs. The Stafford Board of Supervisors adopted six of the eight UDAs on December 14, 2010. They are:
Courthouse UDA ; Southern Gateway UDA; George Washington Village UDA; Eskimo Hill UDA
Centerport UDA ; Leeland Station UDA
When the Board adopted the Comprehensive Plan on December 14, 2010, Supervisors established a joint committee of the Board of Supervisors and the Planning Commission to develop and recommend Comprehensive Plan amendments necessary to redistribute the 4,000 dwelling units included in the formerly proposed Stafford Station and Brooke Station Urban Development Areas, which were recommended by the Planning Commission on November 17, 2010, but not adopted by the Board. The Board directed that the 4,000 dwelling units that had been proposed for the Stafford Station and Brooke Station UDAs be distributed in one of the six UDAs adopted on December 14, or in one or more new UDAs to be proposed by the joint committee.
The joint committee consists of Board of Supervisors members Paul Milde, Aquia District, Gary Snellings, Hartwood District, and Bob Woodson, Griffis-Widewater District, and Planning Commission members Ken Mitchell, Aquia District, and Scott Hirons, Falmouth District.
The full Board of Supervisors plans to discuss the Urban Development Area planning process at its January 4, 2011 meeting. The joint committee of the Board and the Planning Commission is in the process of scheduling public meetings to discuss options for the dwelling units. The meetings will be open to the public and publicized as soon as they are scheduled.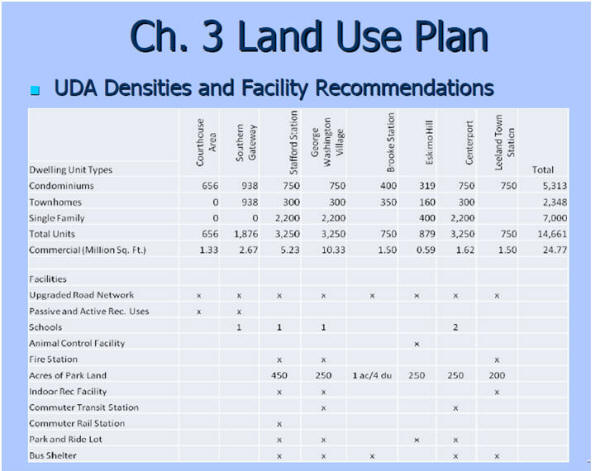 ---
Notice: Purchaser is cautioned and urged to investigate any and all information and circumstances. Information contained in this web site and links is not guaranteed in terms of accuracy and/or scope.
Mr. Alex Long, CCIM, AICP, ALC along@ccim.net 540.371.8700 Licensed in Virginia
"CCIM" Certified Commercial Investment Member; "AICP" American Institute of Certified Planners, American Planning Association; "ALC" Accredited Land Consultant, Realtor Land Institute.
Weichert Realtors; 1955 Jefferson Davis Highway, Suite 201; Fredericksburg, VA. 22401